In 2018, the Center for Effective Philanthropy found that 55 percent of nonprofit CEOs believe that it is 'very' or 'extremely important' for senior leadership teams to reflect their organizations' target populations.
Yet still, studies indicate that the percentage of people of color in executive leadership positions in the industry has remined under 20 percent for the last 15 years.
A guiding principle of our work at Ascend is ensuring equity, so we were honored to host a conversation with two field leaders – LIFT and Prosperity Now – on how they have put racial equity at the center of their work and their leadership transitions.
When organizations go through leadership transitions, there is a lot at risk – reputation, stability, funding, and vision – to name a few.
Prosperity Now President and CEO Gary Cunningham, Ascend Fellow and Prosperity Now President Emerita Andrea Levere, LIFT CEO Michelle Rhone-Collins, and Ascend Fellow and LIFT Founder and Senior Advisor Kirsten Lodal shared how they each approached that critical transition with equity top of mind, what they learned, and the business ahead.
Excerpts from the conversation between these leaders and Ascend Executive Director Anne Mosle follow, complete with useful insights for anyone thinking about how their organization might weather a leadership change.
Practical advice for organizations undergoing leadership transitions
Probably five years ago… we looked at every programmatic area of our work and identified with the teams: how do we integrate racial equity into that work? How does that change the work we do?

One of the most important things we did when we talked about our intended impact is we used all the data we had collected on the causes, the drivers, and the reality of the racial wealth divide, and we talked about reducing wealth inequality. We used a data point for white people. And then we used a different one for households of color because we knew that the wealth divide was so great that we couldn't use the same metric for both communities in deciding what we did. That has been a profound influence on our work.

We also then did work internally, and that is a journey – a long journey, and Gary is moving that journey forward in incredibly positive ways. And that became a huge piece of how we were looking at our executive search. We were very focused on finding a search consultant who could lead this process. The person that we picked had the best track record of anybody in terms of identifying and recruiting candidates of color. But the other thing that was incredibly important is that her approach aligned with the culture of the organization. She was an incredibly collaborative, open, listening person.

Andrea Levere, President Emerita, Prosperity Now
In terms of practical advice, there are three things I would call out.

One is the power of time. The benefit to the organization to get way out ahead of these processes is so helpful. To normalize it with your board and others, to get through a lot of the emotions that come with this way before you're actually executing the transition is so healthy and helpful. But also, I would really say personally, do this before you're burnt out. Just do it. Get way out ahead of hitting that wall. I have talked to so many leaders since I executed this transition for myself – who've reached out because they are ready to leave – and I would say, unfortunately, too often they are already fried. And they want to leave because they're in that state of despair of feeling trapped and they can't get out. And the fact is, pulling off these transitions arguably requires your finest level and period of leadership to create the confidence that this can happen, and you can't summon that if you're already totally burnt out. And the staff can see through it. The board can see through it. So, time would be number one.

Second is good process. It can be complicated to have an internal candidate and also run a national search. But there is no question in anyone's mind that we were right have a proper, formal, competitive process that ensured that we had full investment and buy-in in our ultimate pick.

And then finally, it's been really important to have defined clearly my role going forward. One thing I was clear about is that I did not want to be an exiting founder and CEO who was breathing down the neck of my successor. I didn't want to join the board out of the gate; I just didn't believe that it would be possible for the kind of leader I hoped to take over to be sitting in a boardroom with me right there with everyone watching my body language as he or she tried to make new decisions. So, I felt very strongly, but it took some convincing. That was probably one of the hardest conversations I had with people, was to convince them why it made sense for me not to join the board and not to be in a really public ongoing role with the organization.

Kirsten Lodal, Founder and Senior Advisor, LIFT
Just following data, we know that there are significant capital gaps going to organizations led by people of color and even higher by women of color. What was top of mind for you? What concerns?
Before the position was officially announced, because I was on the leadership team, I knew it was happening. And I knew that I was interested, and the board started to know as well. So, there was a period of time when it was really about being under the microscope. And just to be honest, it was hard. It was really a drain because I knew that everything I said and did, whether it was my own internal perception or really happening, had extra attention on it. But I think that [opening the position to a formal, competitive search process] was the right decision. I say that 110% because now the validation that I had and being able to talk about going through this rigorous process, the number of candidates that applied, that was what I was getting the response back from the field. It wasn't just an automatic anointing. I think it also set up a different relationship with the board that it was really about us becoming in relationship with each other, versus it being handed down.

The second thing I want to talk about is the fact that not only are 10 percent of nonprofit leaders, leaders of color, 4 percent of philanthropic dollars are going to organizations with leaders color. So that was a concern for me. It's a concern because institutionally I think that's an issue but then also when you think about the fundraising world and who you're having conversations with and the informal networks that I don't necessarily have access to. Those are all things that I need to really contend with. But instead of standing in a place of fear around that, being stuck around that, or even using that as an excuse, I'm really happy to be a part of conversations like this where it can be turned into a call to action because there needs to be a very different response from the philanthropic community at these times, especially for leaders of color. So that's a conversation I'm excited to be a part of and hope to continue to prod people to be a part of investing in us, not just me, but in us.

Michelle Rhone-Collins, CEO, LIFT
Pitfalls and opportunities
These are high risk propositions, and there is no way that you're not going to have issues along the way as you do this work. We're still going to have issues that occur that one are unpredictable, that are complex, that you're trying to manage through, are trying to lead through, that are going to arise as you do the work. So, for me going in knowing that not everything is going to be perfect and continuing to ask questions, trying to understand why [is important]. The real success happens with patience. You have to be able to have patience to understand, and you have to not come in with the idea that everything that happened in the past is bad, or didn't happen well, etc. And you have to honor the work that's been done in these organization because all of the folks that have come to this place have come because they have a real passion and dedication for the work. That doesn't mean things won't change, but it does mean that by honoring the folks that are there, you're sending the message that they matter. And if your team matters, you can actually do fantastic things; you can change the world. When your stakeholders matter, you can change the world.

Gary Cunningham, President and CEO, Prosperity Now
Related Posts
Today, the Aspen Institute announced its 2023 Aspen Institute Ascend Fellows, 20 leaders from across the United States who are transforming systems so that all children and families can thrive.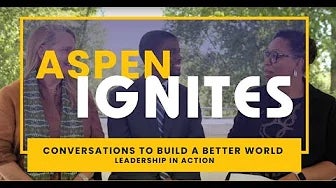 In episode three of Aspen Ignites: Conversations to Build a Better World, Jenn White leads a conversation on leadership with Anne Mosle and 2018 Ascend Fellow Melvin Carter.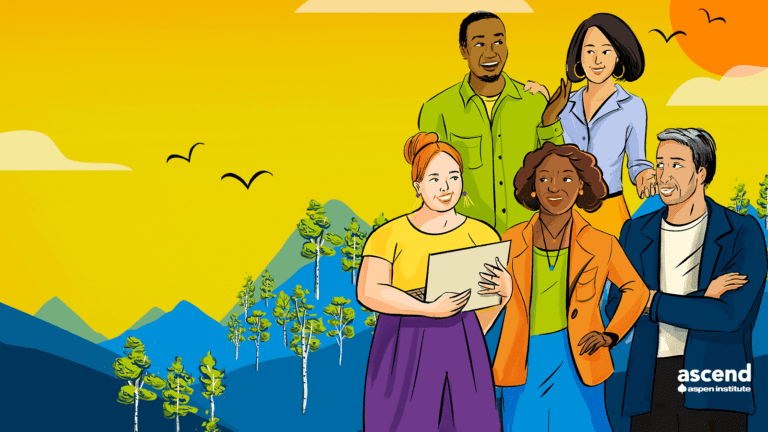 100 Ascend Fellows will join the Aspen community for two afternoons of conversations aimed at Building Well-Being for Children and Families and Prioritizing Joy and Human Thriving.
Featured from the Ascend Community