Anne Mosle is a vice president of the Aspen Institute, founder and executive director of Ascend at the Aspen Institute and she also serves as co-chair of the Aspen Institute Forum on Women and Girls. She is an innovative and inclusive leader in building pathways to opportunity for low-income children, women and families. With more than 20 years of experience in philanthropy, policy, and practice, Mosle is a nationally recognized leader in bringing those sectors together to build pathways to opportunity for children, women, and families with low incomes. Mosle has achieved numerous awards including Washingtonian of the Year, APHSA's 2017 Jerry W. Friedman Health and Human Services Impact Award, and Visionary Philanthropist.
Mosle founded and leads Ascend, a policy program of the Aspen Institute. Ascend serves as the national hub for breakthrough ideas and proven solutions that move low-income children and their parents towards educational success, economic security, and health and well-being. Under her leadership, Ascend at the Aspen Institute has guided the national two-generation field to new heights and catalyzed action and investments for children and families around the world. Mosle led the design and launch of the Ascend Fellowship, a national fellowship program that identifies and amplifies the impact of multi-sector leaders with "quantum leap" ideas to break the cycle of poverty, and the first national Two-Generation Innovation Fund and national network focused on policy and practice innovations, which now comprises over 450 partners reaching 10 million people.
From its inception, Ascend at the Aspen Institute has embraced a commitment to racial equity, a gender lens, and engaging the voices of families. Ascend's policy expertise and cross-sector collaboration approach is well respected and has been highlighted in White House forums and hundreds of communities across the country.
Mosle is an active contributor to the Aspen Institute policy leadership team committed to tackling the issues of inequality and opportunity in the United States. She has authored and contributed to numerous publications, including the Shriver Report: A Woman's Nation Pushes Back from the Brink; Two Generations, One Future; First Focus Big Ideas; State of the Field: Two-Generation Approaches to Family Well-Being, and Toward a More Equitable Tomorrow: A Landscape Analysis of Early Childhood Leadership.
Prior to the Aspen Institute, Mosle served as a vice president and executive officer of the W.K. Kellogg Foundation (WKKF), where she served on the executive council and oversaw $150 million in annual investments. Mosle led the creation of WKKF's Family Economic Security Portfolio and launch of their Mission-Driven Investing program. In addition, Mosle was responsible for the Civic and Philanthropic Portfolio and New Mexico place-based investments.
Mosle is recognized as an innovator in the women's philanthropic movement. Beginning in 2000, she served as the president of the Washington Area Women's Foundation, spearheading seven years of record growth and driving a national effort to elevate the role of women philanthropists in communities. She was also the lead architect of their nationally recognized grantmaking initiative, Stepping Stones, to build the financial independence of women and families.
Mosle currently serves on the board of the Institute for Women's Policy Research, the Executive Governing Board of the American Public Human Services Association (APHSA), the Robert Wood Johnson Foundation State Strategy Advisory Committee, National Trustees Council of America's Promise, and Leadership Council of the Washington Area Women's Foundation. She lives with her family in Washington, DC.
Stories featuring Anne Mosle
Today, the Aspen Institute announced its 2023 Aspen Institute Ascend Fellows, 20 leaders from across the United States who are transforming systems so that all children and families can thrive.
In Aspen, the community and the Aspen Institute host renowned leaders, from deep dives on artificial intelligence at the Ideas Festival to the benefits of engagement over isolationism at the Aspen Security Forum.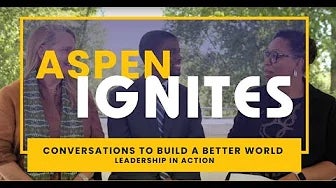 In episode three of Aspen Ignites: Conversations to Build a Better World, Jenn White leads a conversation on leadership with Anne Mosle and 2018 Ascend Fellow Melvin Carter.
Convenings Featuring Anne Mosle
Resources Authored By Anne Mosle