Supporting Social Impact in DC: A Conversation with Marjorie Sims and Billy Shore
Last week, Ascend Managing Director, Marjorie Sims, had the privilege of moderating an Aspen Institute roundtable conversation with Billy Shore, founder and CEO of Share Our Strength. The conversation was part of a new initiative launched by Aspen Institute CEO, Dan Porterfield and co-led by Sims and Public Programs Vice President Jamie Miller focused on a local social impact strategy for the Aspen Institute in its own backyard. Share Our Strength is an organization committed to ending hunger and poverty in the United States and abroad. Shore founded the organization with his wife in 1984 as a response to the famine in Ethiopia and it has since provided over 775 million meals to kids across the country.
At the roundtable, Shore shared his fundamental belief that hunger is an "extremely solvable" component of systemic poverty. Share Our Strength achieves success by ensuring that as many children as possible are fed three meals a day. With federal money permanently set aside to feed kids in schools, the organization serves as a critical bridge in places where the funds exist but the capacity to build programs is lacking, as well as an advocate to expand food programs through state policy.
But Share Our Strength is not just about food; it is also about dignity. Shore shared with Sims and Aspen staff that one of their greatest challenges has been addressing food insecurity without stigmatizing those who face it. The organization has incorporated various policies to bring humanity and dignity into their work, including "second chance breakfasts" that allow kids in school to eat in their classrooms instead of having to show up early to eat in the cafeteria. Practices like the second chance breakfast have increased the number of kids nationwide receiving breakfast as well as learning time for all students. But at the heart of bringing dignity into food equity, is the voice of families. Whether this involves speaking at his son's school, or visiting feeding sites across the country, Shore is committed to listening to the families Share Our Strength serves, and ending hunger in a way that works for them.
Porterfield brings a passion for impact at the local, national, and global level; and the DC Local Impact strategy will amplify the longstanding volunteer commitment of the Aspen Institute to make a difference in the lives of families – especially in our home communities of the District of Columbia and Pitkin County, Colorado, where our main campus is located in Aspen.
"Every institution is a part of a community, and a central part of the mission of any great people-serving organization should be to serve as not only a responsible citizen, but as an active contributor and positive changemaker in the community in which it sits," Porterfield said. "The Aspen Institute is proud to house its headquarters in the District of Columbia, and as we seek to make positive impacts across the country and around the world, it is essential that we also collaborate with community partners here in Washington to make a difference and help our local community thrive."
Ascend is proud to be a part of this legacy of authentic engagement in our communities. Since its founding, Ascend at the Aspen Institute has been committed to serving the needs of its community. Through our Fellowship and national Network, we partner directly with over 30 partners in DC and Pitkin County who work every day to improve the lives of local children and families. We are proud to support the work of organizations like LIFT, the Pitkin County Human Services Department, and Valley Settlement in the neighboring Garfield County, CO, as well as the innovative 2Gen programs being piloted by Matthew Biel at Georgetown University, Wendy Ellis at George Washington University, and many others. Our work would not be possible without our DC and Pitkin County partners, and we look forward to deepening our roots at home, and continuing to drive change on local, state, and national levels.
Photo caption, left to right: Jamie Miller, Vice President of Public Programs, Aspen Institute; Dan Porterfield, President and CEO, Aspen Institute; Marjorie Sims, Managing Director, Ascend at the Aspen Institute; Billy Shore, President and CEO, Share Our Strength.
Related Posts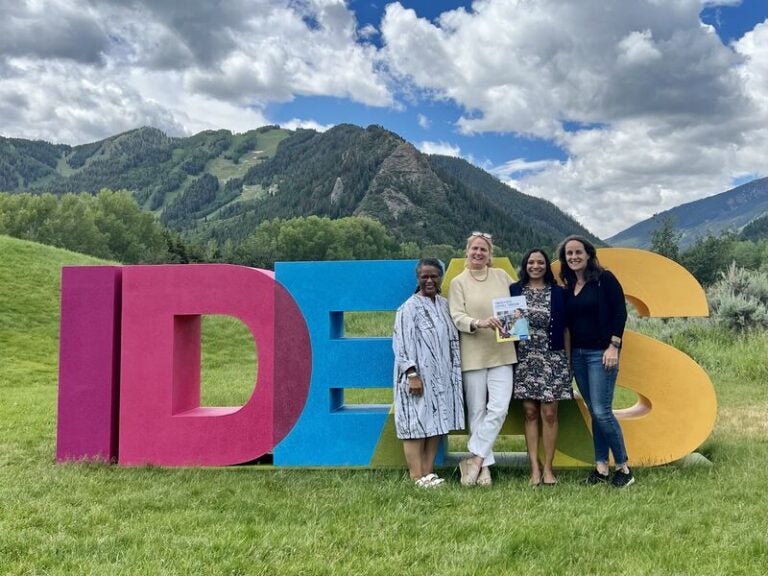 I started off the 2022 Aspen Ideas Festival at Aspen Words Book Ball, a passion project of Isa Catto and Daniel Shaw.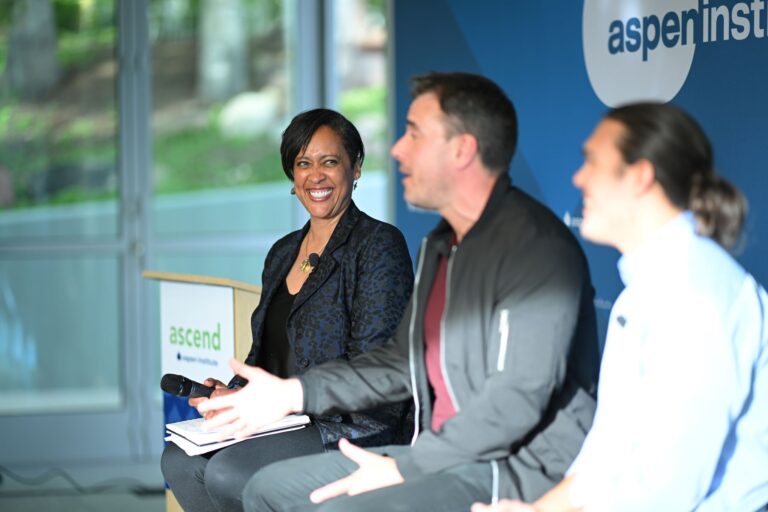 This year, the Aspen Idea Festival returns to in-person programming at our campus in the Rocky Mountains June 25 - July 1, 2022.
On Tuesday, June 1st, 2021, Ascend at the Aspen Institute's Family Prosperity Innovation Community hosted a panel discussion about the recently proposed federal legislation on paid leave. This webinar presented how and why this proposed legislation matters and shared opportunities to advance paid leave locally and nationally. Watch Now Presenters and Panelists Vicki Shabo – New …
Featured from the Ascend Community