The Time Is Always Right To Do What Is Right
With eyes wide open and steady resolve, the importance of leadership, courage, and conviction can't be understated. We need leaders to pull us into a post-pandemic world, crack the walls of systemic racism so they come crashing down, and build a society that collaborates to create opportunity for those often blocked from it. Reimagining a new world takes courageous leaders. Leaders driven by purpose, not protection of position, privilege, and power. As Martin Luther King Jr., who we honor on Monday said, "The measure of a man is not where he stands in moments of comfort, but where he stands at times of challenge." Across the Ascend Network, we see many stepping forward. We can learn much from frontline leaders who draw strength from the values that guide them and are showing us the way to bring forth a better world for children and their families.
Some top-line lessons from frontline leaders.
Focus on Outcomes, Not the Odds
Reverend Raphael Warnock, 2018 Ascend Fellow, just made history as the first Black senator from Georgia. There is much to learn from his leadership which focused not on the odds against him but on the outcomes he believes in with all of his heart. Conventional wisdom said his candidacy was a long shot. Georgia was a red state with a history of voter suppression. Opponents labeled him "radical Raphael" because he spoke real truth in the face of power. His sermons were weaponized to denigrate his character. But through it all, Senator-elect Warnock avoided the dirty politics of name calling and focused on the issues that mattered most to Georgians. He was clear about what needs to get done. As he said in a BET op-ed, "But before us is the privilege of choosing a path in one of those extraordinary American moments when a generation of Americans gets to rise up and reclaim the truth of the American creed, E Pluribus Unum, out of many, one. In this moment, there are many who seek to divide us. Folks who have no vision traffic in division. But we cannot afford to be divided. We must reinvest in the truth of our shared destiny." He overcame the odds because, rather than fear them, he defied them.
Realize Staying Power Builds Power
Reverend Vivian Nixon, 2012 Ascend Fellow and College and Community Fellowship executive director, shows us that persistence is power. In December 2020, in partnership with many activists, she successfully reversed a damaging piece of the 1994 Crime Bill which barred incarcerated people from accessing federal Pell Grants. This denied people one of the most powerful ways to reinvent themselves: education. A returning citizen herself, Nixon's life's work has since focused on advocating for incarcerated people and their right to an accessible education. For 20 years, she never lost sight of the fundamental truth that drove her work: "Every person should have access to hope and a fair chance to secure a meaningful future for themselves, their family and their community." On December 21, Congress lifted the 26-year ban on Pell Grants for incarcerated individuals. Nixon, who never gave up, was a key figure in the restoration.
Have Courage to Share Stories That Drive Change
Tameka Henry, Ascend Parent Advisor and recipient of a 2020 Family Values @ Work GameChanger award, starts most of her stories the same way. She is the mother of four and a loving wife. She uses experiences from her own life, whether fighting to get her children into Head Start or making the case for why paid family leave is critical, so people like her can care for spouses when they fall ill without losing a job or wages. By showing up, sharing what she lives day in and day out, she brings the voices of parents to board meetings, state legislatures, and the U.S. Congress where they are too often missing. This missing voice results in uninformed policies and mixed up priorities when it comes to doing right by our families. In addition to serving on multiple board and leadership positions, Henry stepped forward and made her case for why a parent voice would enhance the Clark County School District Board of Trustees and ran for a seat. While she narrowly lost a close race, she showed yet again the power of putting parents' experience at the heart of the systems that shape our communities. Henry says that stories are "data with soul." This is something we as a nation need to hear a lot more of.
Put People and Equity Front and Center in State Policy
Lori Pfingst, 2018 Ascend Fellow and Senior Director in the Washington State Department of Social and Health Services, embodies what putting families at the center of policy change looks like. She played a leadership role in Governor Inslee's Task Force on Poverty Reduction, which created a comprehensive, 10-year plan to reduce poverty and inequality in Washington state. People with lived experience and a commitment to equity were at the center of creating the plan, forming the Steering Committee that informed the process and approved the Plan's content. It was a state-wide effort of more than 70 people across agencies and communities. As Pfingst, shared, "We encouraged each other to look beyond professional titles, power dynamics, and perceived differences to build shared understanding… We had long, uncomfortable conversations about white privilege and structural racism, and encouraged each other to speak the truth, even when our voices shook." The result is a blueprint for the next decade focused on dignity and well-being for all children and families.
At Ascend at the Aspen Institute, we see leadership as a life-long journey. We create space and springboards for diverse leaders to examine their roles and values as well as amplify their power and vision in an ever-changing, choppy world. Ascend Fellows, Parent Advisors, and Network Partners embrace the shared North Star of ensuring all children and families reach their full potential and recognize that our country's future depends on equitable prosperity and mobility. We center our leadership efforts around: taking bold risks, having a radiant North Star, practicing self-reflection, embracing radical collaboration, and welcoming critiques and diverse points of view to sharpen and strengthen our work to create a more equitable, inclusive, and thriving nation. In these polarizing times, we need leaders willing to be truth tellers and history makers, bridge builders and healers.
As you look ahead to 2021, know that at Ascend, we are rooting you on and stand beside you. The world needs you. So to each of you, we offer this poem to reflect and ground yourself for the work ahead. As you read it, ask yourself:
Where do you see light in the days ahead?
What risks are you willing to take to build a country that truly offers opportunity to all?
America by Claude McKay

Although she feeds me bread of bitterness,
And sinks into my throat her tiger's tooth,
Stealing my breath of life, I will confess
I love this cultured hell that tests my youth.
Her vigor flows like tides into my blood,
Giving me strength erect against her hate,
Her bigness sweeps my being like a flood.
Yet, as a rebel fronts a king in state,
I stand within her walls with not a shred
Of terror, malice, not a word of jeer.
Darkly I gaze into the days ahead,
And see her might and granite wonders there,
Beneath the touch of Time's unerring hand,
Like priceless treasures sinking in the sand.
Happy New Year and Happy Martin Luther King, Jr. Day,
Anne and the Ascend at the Aspen Institute team
Related Posts
Today, the Aspen Institute announced its 2023 Aspen Institute Ascend Fellows, 20 leaders from across the United States who are transforming systems so that all children and families can thrive.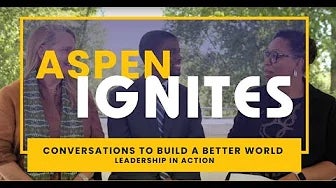 In episode three of Aspen Ignites: Conversations to Build a Better World, Jenn White leads a conversation on leadership with Anne Mosle and 2018 Ascend Fellow Melvin Carter.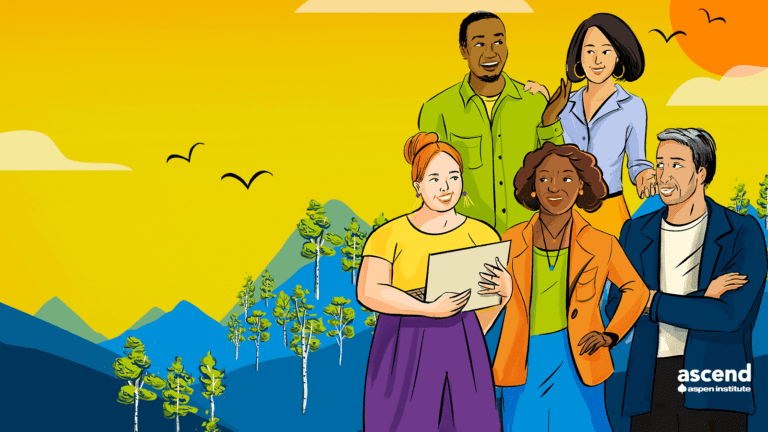 100 Ascend Fellows will join the Aspen community for two afternoons of conversations aimed at Building Well-Being for Children and Families and Prioritizing Joy and Human Thriving.
Featured from the Ascend Community