New Parent Advisors Will Help Shape Ascend's Expanded Commitment to Student Parent Success
Ascend at the Aspen Institute's Postsecondary Success for Parents initiative announces new efforts to harness momentum to improve higher education for students with children
Washington, DC – Today, Ascend at the Aspen Institute (Ascend) announced that 11 new Parent Advisors have joined its Postsecondary Success for Parents initiative (PSP) to help shape Ascend's expanded agenda to improve higher education policy and practice for student parents. Parent Advisors, who are current or former student parents, will be leading voices in the growing movement to address the needs of the one in five college students in the U.S. raising children.
From New York City to North Dakota and beyond, the new cohort of 2023 Parent Advisors reflect the varied experiences and dreams of students raising children. They are pursuing certificates or degrees from community colleges, four-year universities, and workforce training programs.
"There are nearly 4 million student parents across the United States, but the one thing they have in common is a desire to make a better life for themselves and their families," said David Croom, Associate Director of Postsecondary Success for Parents at Ascend. "As more policymakers and institution leaders realize that supporting the success of student parents benefits everyone, we need solutions that are informed directly by those who are directly affected by policy decisions. These 11 incredible students and alumni will not only inform our work at Ascend, they will drive forward the change in their schools, communities, and beyond."
Since 2018, Ascend's Postsecondary Success for Parents initiative has built a foundation for a national student parent movement. Over the next three years, Ascend aims to establish an imperative to increase attainment rates for parents in postsecondary systems, through use of solutions that are parent-informed, have potential to scale, and will lead to high-quality learning and family well-being.
With the support and partnership of ECMC Foundation, Imaginable Futures, Lumina Foundation, Margaret A. Cargill Philanthropies and other funders, Ascend will expand and deepen its work to achieve change for student parents through effective movement building, engaging parent expertise, shaping institutional practice, and pursuing systems and policy change. Parent Advisors will be key to shaping two signature Ascend projects:
Season 2 of the "1 in 5" podcast brings back Ascend's highly rated podcast to further explore the compelling, multidimensional stories of student parents as they navigate school, work, parenting, and life, while bringing in voices of others in positions to create change, including institutional leaders, practitioners, and policy leaders. Listen to season one and subscribe on Apple Podcasts, Spotify, Stitcher, Pandora, Amazon Music, and other podcast platforms.
Expanded work to advance change within institutions, including the Parent-Powered Solutions Fund, a student parent-led fund dedicated to advancing the work of organizations and initiatives that support student parents' postsecondary success.
"Ascend not only elevates the voices of student parents, but gives them real power in designing the policies and institutional practices that would best support their success," said Vinice Davis, Venture Partner at Imaginable Futures. "Student parents are at the heart of equity in higher education and we're proud to invest in change that acknowledges the expertise of those who are most impacted."
"We know that single mothers, who represent about one in ten college students, are more likely than any other group of women to have started but not finished a postsecondary degree," said Amber Angel, Program Officer at ECMC Foundation, and Ascend Parent Advisor alumna. "Navigating higher education as a single mother, I saw first-hand which supports made the difference. I am excited to see how the new Parent Advisors continue to reshape higher education for single mother success."
Meet the 11 new Parent Advisors joining Ascend's Postsecondary Success for Parents Initiative:
Learn more about Ascend's Parent Advisors and expanded work on Postsecondary Success for Parents.
###
—–
Ascend at the Aspen Institute's mission is to create a society where every family passes a legacy of prosperity and well-being from one generation to the next. In 2011, Executive Director and Aspen Institute Vice President Anne Mosle founded Ascend to spark and spread breakthroughs in the ways we think about and invest in leadership to foster the well-being of children and the adults in their lives, together. Ascend has since propelled a national movement to shift the odds back in favor of families. Through the visionary leadership of more than 100 Ascend fellows and 460 Ascend Network partners, two-generation (2Gen) approaches are now being advanced in all 50 states, the District of Columbia, Puerto Rico, Ireland and Rwanda. Together, the leaders in this growing 2Gen movement are transforming systems that serve more than 10 million families.
—–
The Aspen Institute is a global nonprofit organization committed to realizing a free, just, and equitable society. Founded in 1949, the Institute drives change through dialogue, leadership, and action to help solve the most important challenges facing the United States and the world. Headquartered in Washington, DC, the Institute has a campus in Aspen, Colorado, and an international network of partners. For more information, visit www.aspeninstitute.org.
###
Contact: Brendan Creamer
Communications Manager
Ascend at the Aspen Institute
brendan.creamer@aspeninstitute.org
Related Posts

There is no excerpt because this is a protected post.

What does college success look like for Black and Native student parents? This podcast episode sheds light on student parents' and administrators' experiences at Historically Black Colleges and Universities, or HBCUs, and Tribal Colleges and Universities, or TCUs.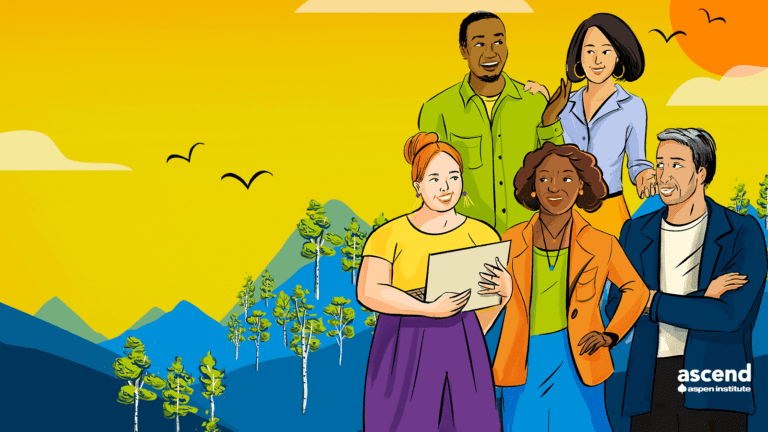 100 Ascend Fellows will join the Aspen community for two afternoons of conversations aimed at Building Well-Being for Children and Families and Prioritizing Joy and Human Thriving.