Meet the Leaders Taking Action for Families in America
In order for America to thrive, our families must thrive. This is the understanding of Ascend at the Aspen Institute, a program dedicated to mobilizing systems, policy, and social impact leaders who are working to create a world where every family passes a legacy of well-being from one generation to the next. This week, the Institute announced that 19 leaders were selected for the 2021 Ascend Fellowship, an 18-month-long program that brings together innovators from diverse backgrounds to build political will, change systems, and drive policy that benefits the well-being and prosperity of all children and families in the US.
The 2021 fellows were selected for their equity-focused approaches to reimagining care and learning, creating a more inclusive economy, promoting policies and practices that impact children and family well-being, and reframing conversations around families' strengths and the power of community. The fellowship is made possible through the support of the Bezos Family Foundation, Doris Duke Charitable Foundation, Catto Shaw Foundation, and other funders.
"We launched the Bezos Family Foundation over two decades ago to help create a world in which all young people and their families, regardless of their race or zip code, can thrive. Equity of opportunity and a desire to solve systemic problems matter now more than ever," said Mike Bezos, vice president and co-founder of the Bezos Family Foundation and Institute trustee. "We are proud to partner with Ascend at the Aspen Institute to invest in leaders with the vision and courage to tackle challenging problems, leaders who put the well-being of children and families at the center of their work."
"Our future as a country is inextricably tied to how well we do by our families," said Dan Porterfield, president and CEO of the Aspen Institute. "This new class of fellows is dedicated to creating a nation where every child is set up to prosper and where every family has access to the education and opportunity to do better than the previous generation."
Meet four of the 2021 Ascend fellows, who have bold plans to help children and families reach their full potential.
Jesús Gerena, CEO, UpTogether
A native of Puerto Rico, Jesús Gerena was nine years old when he moved to Amherst, Massachusetts with his mother and siblings. The community was full of resources, lifting up opportunities for Jesús' family to achieve their goals. This life experience has fueled Jesús' desire to eliminate place, race, or economic position as the marker for individual and collective success. Today, Jesús is the CEO of UpTogether, an antiracist change organization that trusts and invests in families with low incomes so they can move out of poverty.
Aysha Schomburg, Associate Commissioner, United States Children's Bureau
Since joining the U.S. Children's Bureau in 2021, Aysha Schomburg has been advising the Biden Administration on child welfare issues, including abuse and neglect, protective services, family preservation and support, adoption, foster care, and independent living. Previously, she served as senior administrator of New York City's Administration for Children's Services, where she supported New York City's Department of Education and Department of Homeless Services on creating and coordinating guidance for frontline staff during the Covid-19 pandemic.
Rinku Sen, Executive Director, Narrative Initiative
Prior to serving as executive director of the Narrative Initiative, Rinku Sen was executive director of Race Forward and publisher of the news site, Colorlines. Under her leadership, Race Forward advocated for media outlets to stop referring to immigrants as "illegal," resulting in the Associated Press, USA Today, LA Times, and more outlets changing their practices. Her books Stir it Up and The Accidental American theorize a model of community organizing that integrates a political analysis of race, gender, class, poverty, sexuality, and other systems.
Daniel Williams, President & CEO, The Steelcase Foundation
As a leader in education and equity-centered design, Daniel works to advance justice through education and community engagement. Before assuming his role at the Steelcase Foundation, Daniel worked to advance equity and innovation throughout Michigan at the West Michigan Center for Arts and Technology and co-founded Grand Rapids University Prep Academy. He was elected to the Board of Trustees for Grand Rapids Community College, appointed by then-Governor Rick Snyder to the Michigan Consortium of Advanced Networks, and appointed by Governor Gretchen Whitmer as vice-chairperson of the MI-STEM Council.
Related Posts
Today, the Aspen Institute announced its 2023 Aspen Institute Ascend Fellows, 20 leaders from across the United States who are transforming systems so that all children and families can thrive.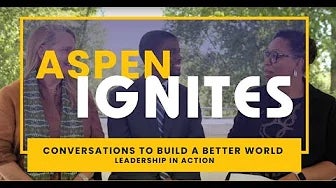 In episode three of Aspen Ignites: Conversations to Build a Better World, Jenn White leads a conversation on leadership with Anne Mosle and 2018 Ascend Fellow Melvin Carter.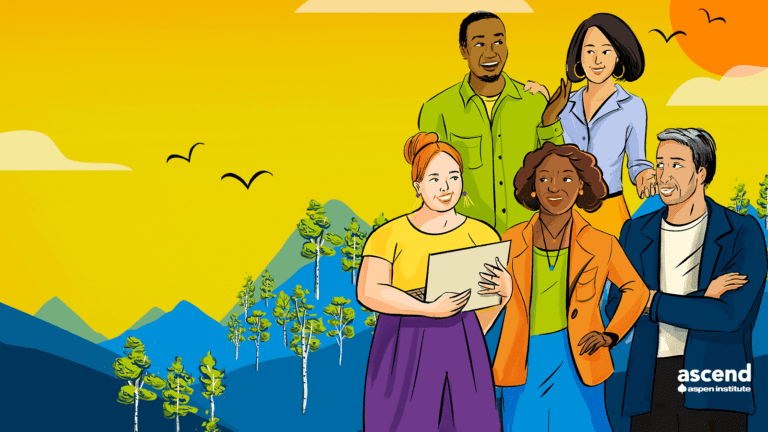 100 Ascend Fellows will join the Aspen community for two afternoons of conversations aimed at Building Well-Being for Children and Families and Prioritizing Joy and Human Thriving.
Featured from the Ascend Community