Bold Leaders to Advance Innovative Strategies for Families' Health and Economic Prosperity
Contact: Lindsay Broyhill
Ascend at the Aspen Institute
lindsay.broyhill@aspeninstitute.org
Bold Leaders to Advance Innovative Strategies for Families' Health and Economic Prosperity
Aspen Institute Launches New Partners and Advisors in Aspen Family Prosperity Innovation Community
Washington, DC – Ascend at the Aspen Institute is proud to announce the new partners and advisors the Aspen Family Prosperity Innovation Community, Ascend's initiative for breakthrough innovations and collaborations that position families to reach educational success, economic prosperity, and health and well-being.
The launch of this community could not come at a more crucial time, as businesses and communities reimagine how we support families as we navigate and respond to the coronavirus pandemic, racial injustice, and economic upheaval.
"To so many of the questions we are asking right now, family prosperity is the answer," says Aspen Institute vice president and executive director of Ascend Anne Mosle. "Our nation needs to embrace a shared mindset that we can do better by our families, as both the right and smart thing to do. These times call for raising our ambitions, not lowering them. We must explore and expand solutions like affordable child care, paid leave, guaranteed incomes, and on-the-job education and training, breaking down racial and gender barriers with them and unleashing prosperity. America's families are living with the realities of the pandemic every day and looking ahead with resolve. This community is ready to get to work right alongside them."
This new phase of Family Prosperity brings together 20 national and community-based organizations and 14 expert advisors from states across the U.S., including employers in the public and private sectors. Working beside families and guided by their expertise and experience, these leaders will develop, refine, and amplify strategies and solutions that remove barriers and unleash prosperity for families, centering people of color and those with low incomes.
"The pandemic has laid bare the economic and health disparities caused by structural racism. We know our country will be stronger when all families have time and support to attend to their own health and that of their loved ones," said Wendy Chun-Hoon, Executive Director of Family Values @ Work. "To accomplish this, policies like paid family and medical leave have to be designed and implemented to ensure they are reaching the people who have been systematically left out. We can do that if we center their experiences and leadership in decision-making in this critical moment. Our network is led by women of color forging a new care economy across the country, and we look forward to elevating their voices in this powerful community of innovators."
"Being a part of this community will provide Nationwide Children's Hospital with access to a respected and credible network of best practices to engage policy influencers and decision makers in important work that will change generations," said Nick Jones, director of the Healthy Neighborhoods Healthy Families initiative at Nationwide Children's. "As a healthcare institution in Family Prosperity, we hope to contribute systemic policy knowledge and thought leadership of equitable and asset-based community development that aims to lift up neighborhoods, specifically household prosperity and social determinants of health."
This community is vital to facing the challenge of the moment: keeping prosperity from slipping away for families. The coronavirus pandemic is threatening our health and our economy, spotlighting the existing cracks in the nation's systems that millions of Americans have been falling through for generations. As leaders aim to stem the fallout, Family Prosperity is in the position to catalyze long-term solutions that will work for families now and well after the pandemic is over.
"Our nation's workforce needs policies and practices that support whole families. To ensure family prosperity, any working person should have access to high-quality, affordable and portable benefits," said Sara Horowitz, founder of Trupo and Freelancers Union. "I'm proud to join the Aspen Family Prosperity Innovation Community, which shares the belief that a nation and economy should be informed and powered by the people who work and is driven to bring solutions to scale so that all families prosper."
Together, Family Prosperity will:
Build, disseminate, and implement a portfolio of actionable approaches and strategies that put child and family outcomes at the center, including innovations in paid leave and child care; equitable support for families' health, mental health, and well-being; employment partnerships; and public benefits programs like the Supplemental Nutrition Assistance Program.
Identify a set of practices and policies that can shift the narrative around families with low incomes and transform policymaker, practitioner, and public mindsets; and
Create and refine bold policies that can influence the private sector and the way workers, particularly those with low wages, are supported, employed, and trained.
Family Prosperity, supported by a $7 million grant from the Robert Wood Johnson Foundation, is geographically diverse, with partners in states from Alaska to Tennessee, Massachusetts to New Mexico. This second phase of Family Prosperity brings a heightened focus to engaging the business community and the role of employers in advancing employment, educational opportunities, and the health and well-being of families. Family Prosperity partners are not only thought leaders, but employers themselves, and are thinking deeply about how they engage with their communities. Advisors from Sodexo, FedEx, Trupo, and other employers also join us to share their perspective and strategy for approaches to prosperity that are collaborative with the business sector.
Gina Adams, Senior Vice President for Government Affairs, FedEx
Dr. Rohini Anand, PhD, Former SVP Corporate Responsibility and Global Chief Diversity Officer, Sodexo
Al Fuller, President and Chief Executive Officer, Integrated Packaging Company, LLC
Jesús Gerena, Chief Executive Officer, Family Independence Initiative
Sarita Gupta, Director of Future Work(ers), Ford Foundation
Sara Horowitz, Chief Executive Officer, Trupo
Dr. Jerreed Ivanich, PhD, Assistant Professor, Colorado School of Public Health
Vicki Shabo, Senior Fellow, Better Life Lab, New America
Dr. Eldar Shafir, PhD, Class of 1987 Professor in Behavioral Science and Public Policy, Princeton University
Dr. Howard Stevenson, Constance Clayton Professor of Urban Education, University of Pennsylvania
Dr. Jennifer Sullivan, Secretary, Indiana Family and Social Services Administration
Lorelei Vargas, Executive Director, Trinity Commons
Dr. Sarah Watamura, Associate Professor, University of Denver
Dr. Joe Wright, President and CEO, Senior Vice President and Chief Medical Officer, University of Maryland Capital Region Health
###
Ascend at the Aspen Institute is the national hub for breakthrough ideas and collaborations that move children and their parents toward educational success, economic security, and health and well-being. We embrace a commitment to racial equity and a gender lens. For more information, visit https:ascend.aspeninstitute.org.
The Aspen Institute is a global nonprofit organization committed to realizing a free, just, and equitable society. Founded in 1949, the Institute drives change through dialogue, leadership, and action to help solve the most important challenges facing the United States and the world. Headquartered in Washington, DC, the Institute has a campus in Aspen, Colorado, and an international network of partners. For more information, visit www.aspeninstitute.org.
Related Posts
The Aspen Family Prosperity Innovation Community Phase II sought to find and foster the most effective and innovative strategies to accelerate social and economic mobility for working families with low incomes. To do so, we elevated the voices and expertise of families with lived experience, were guided by 14 advisors, and we brought together 20 …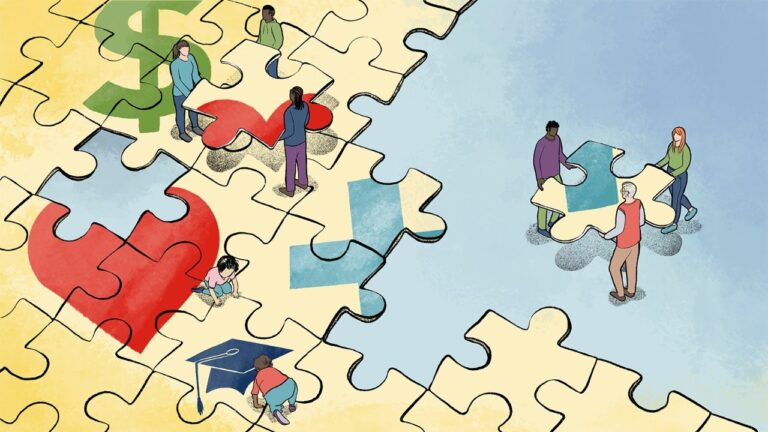 In a blog post authored by Trene Hawkins of Robert Wood Johnson Foundation, Ascend's Managing Director Marjorie Sims shares how Ascend harnesses parent and caregiver leaders' expertise to create policy and systems change in communities and organizations.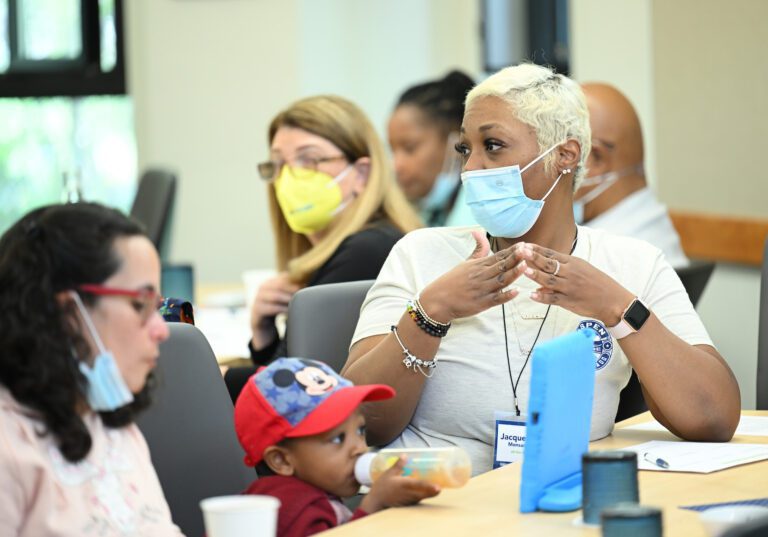 As an organization with a vibrant Early Head Start program and a two-generational approach to alleviating poverty, All Our Kin has been a proud partner in Ascend at the Aspen Institute's Family Prosperity Innovation Community. Being part of this group among 20 partnering organizations has given All Our Kin the opportunity to bring its innovative model …
Mom and Son Duo Reflect on Family Prosperity Convening Read More »