New Podcast Episode: Cash Matters
"It really is the agency and dignity that cash restores." – Aisha Nyandoro, CEO of Springboard to Opportunities, Ascend Fellow, and Family Prosperity Partner
We recently sat down in the studio with Dr. Aisha Nyandoro and Ebony Beals, business owner and Springboard to Opportunities' participant, to talk about how cash shared with mothers with low incomes — with no strings attached — can have an outsize effect on their lives, and the lives of their children, families, and communities.
Tune in to the latest episode of the Aspen Insight podcast, Cash Matters, to hear the interview with Dr. Nyandoro and Beals.
The Magnolia Mother's Trust, a Springboard program, is the first guaranteed income initiative that specifically targets extremely low-income families headed by an African American female living in affordable housing in the United States. 20 Springboard families in Jackson, Mississippi were given $1,000 in cash on a monthly basis for 12 months. Most of Springboard's families make an average of $11,030 annually — more than doubling their income.
The program was developed in partnership with mothers in the community, with their needs, expertise, and insights informing the program's components — because families know what they need to thrive. Families in the program are free to use the money however they see fit to best meet their financial needs. As Dr. Nyandoro said, "There are no strings, no conditions – we trust our peeps."
They are already seeing big results: In 12 months, the moms have paid off over $10,000 in predatory in debt, all have opened checking and savings accounts with a minimum of $500 saved, some have gone back to school and been able to secure higher-paying jobs. They have restored relationships because the stress of having to figure out how to make ends meet has been lifted.
Springboard is now working to cultivate the data and have larger conversations about how the data is used, and move toward making policy changes that really center families and their needs — instead of taking a top-down approach to policymaking. As Beals said, "If you've never met anybody who you're making these policies for, you're kind of out touch… I could be your aunt, your sister. We're just human."
Springboard to Opportunities is a Family Prosperity Partner in the Aspen Family Prosperity Innovation Community, a learning and action community identifying new and different ways to ensure families in America have the opportunities they need to prosper, supported by the Robert Wood Johnson Foundation.
Photo caption: Ebony Beals, left, and Aisha Nyandoro, right, in the Aspen Institute recording studio in Aspen, Colorado.
Related Posts
The Aspen Family Prosperity Innovation Community Phase II sought to find and foster the most effective and innovative strategies to accelerate social and economic mobility for working families with low incomes. To do so, we elevated the voices and expertise of families with lived experience, were guided by 14 advisors, and we brought together 20 …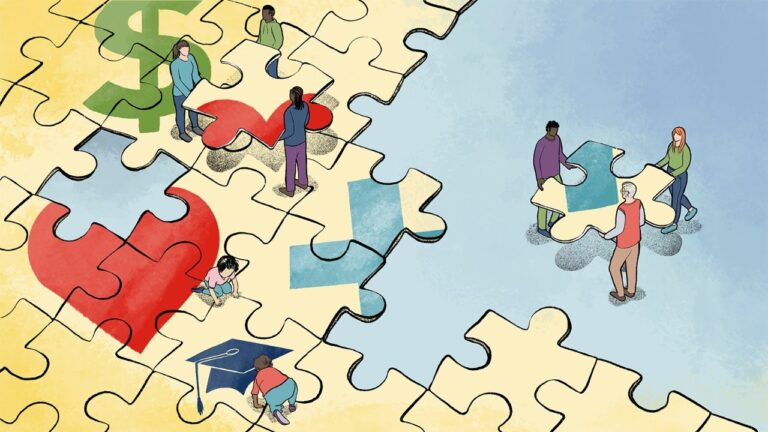 In a blog post authored by Trene Hawkins of Robert Wood Johnson Foundation, Ascend's Managing Director Marjorie Sims shares how Ascend harnesses parent and caregiver leaders' expertise to create policy and systems change in communities and organizations.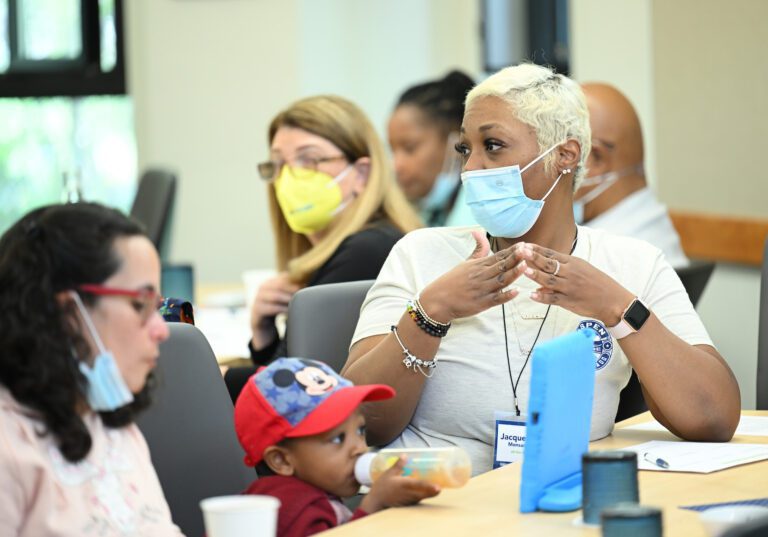 As an organization with a vibrant Early Head Start program and a two-generational approach to alleviating poverty, All Our Kin has been a proud partner in Ascend at the Aspen Institute's Family Prosperity Innovation Community. Being part of this group among 20 partnering organizations has given All Our Kin the opportunity to bring its innovative model …
Mom and Son Duo Reflect on Family Prosperity Convening Read More »
Featured from the Ascend Community